WHY ALSO?
Offered as a LIVE Event only! This is a 1-day course. However, an additional "Check-off/teach-back" is required for final award of ALSO Instructor.
AAFP/ALSO Instructor Course is available to current ALSO providers to allow participants to teach ALSO Provider Courses.
Using a combination of pre-course online content and actual LIVE classroom "teach-back" of content, the participants are able to teach ALSO provider courses. Didactic material will be available approximately 30 days from scheduled class date for review and participants must email letter of completion to course instructor. After attending and successfully being recommended as an INSTRUCTOR CANDIDATE, the participant will have a final "check off" of an independent faculty advisor to complete award of ALSO instructor. Cost for online material is $130.00 per attendee payable by the hospital/attendee and is not included in instructor cost. CEUs/CME's provided by AAFP. (see website for details). There is an additional cost of $120 PER CLASS to schedule the instructor course.)
ALSO involves utilizing a standardized approach to emergency obstetrical situations. Knowledge of content, practice of skills, and use of mnemonics will allow learner to quickly retrieve "actions" necessary to reduce morbidity. AAFP lists safety statistics as poorly managed births causing 289,000 mortalities worldwide and medical errors being the third leading cause of death in the United States, costing $8 to $29 billion annually. Patient outcomes are shown to improve when team members work together in an environment where practicing team training is considered a high priority. Heavy emphasis is placed on communication during the workstations and skill check-offs as The Joint Commission (TJC) lists communication failures as a root cause of over 50-70% of maternal and perinatal sentinel events. Teamwork tools such as situational awareness, standardized language, closed-loop communication, and shared mental model will be emphasized during workstations and skill check-off using in-situ drill sets.
INSTRUCTOR classes are available as LIVE EVENT ONLY!
Maximum 6 attendees per instructor.
Instructor cost: Contact for details & travel costs. 
Provider and Instructor course available as well as instructor check-offs.
AAFP (ALSO) list learning objections as ability to: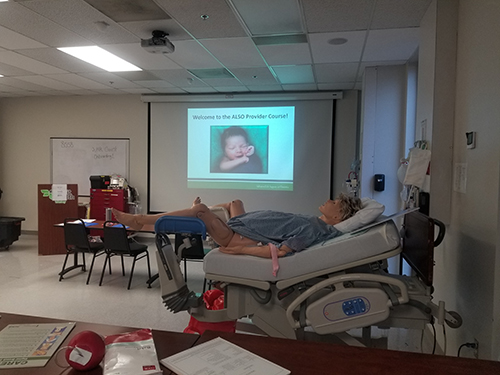 1. Discuss methods of managing pregnancy and birth urgencies and emergencies, which standardizes the skills of practicing maternity care providers.
2. Demonstrate content and skill acquisition as evidenced by successful completion of course examination, skills workstations, and group or mega delivery testing stations.
• Learner will gain competency and confidence in effective teamwork skills in the management of maternal & neonatal emergencies such as: shoulder dystocia, labor dystocia, assisted vaginal delivery, malpresentations/malpositions, third trimester bleeding, postpartum hemorrhage, emergency vaginal breech, eclampsia, cord prolapse, amniotic fluid embolus, maternal resuscitation, and perimortem cesarean section.
• Learner will review the intense didactic material online prior to the ALSO skill/workstation class (approximately 8 hours). This blended classroom presentation allows the learner to review the material at their own pace and is available to be reviewed for approximately 1 year from purchase date. As early recognition is the key to limiting morbidity and mortality in these high-risk events, learner will be more prepared to recognize and intervene timely.
• Each emergency will have in-situ drills for unit awareness, equipment location, and availability that is needed quickly in the various emergency situations as well as review of appropriate hospital policies for management of care such as massive blood transfusion protocol, blood administration, code cart awareness/supplies. Available products such as the Bakri balloon, Floseal will be reviewed for quick retrieval in Postpartum Hemorrhage and proper assembly and nursing care management.
• Learner will be able to describe the potential maternal, fetal, and neonatal complications of the critical events listed above as well the nursing and clinical skills for proper interventions, charting, and assessment of outcomes.
• Learner will be able to incorporate "at-risk" data for the antepartum and intrapartum period for this unanticipated high morbidity, low-frequency events listed above.
• Learner will focus on self-leadership skills in emergency situations and become more aware of strengths and weaknesses such as use of closed-loop communication and situational monitoring. Mutual support and communication will be enhanced at course conclusion.
• Pre-test and post-test assessment is objectively calculated through a standard test prior to class drill attendance. 
•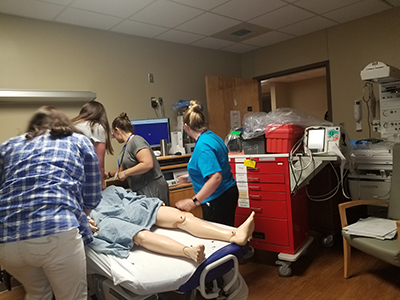 Learner will practice and incorporate team brief, huddle, and debrief after critical events and utilize to improve team function as the "what went well" and "what could have been done better" format. After all, this is the only way we will get better for the future is by identifying system issues and improving medical management.
• In-situ drills ideally will be led by MD/DO from L&D and will allow for multidisciplinary and inter-professional teams to practice managing emergencies. (THIS IS THE PLAN)
• One of the biggest advantages to this systematic approach to team training is providing intense obstetrical high-risk drills, as no formal training has ever been provided in my 28+ years of labor and delivery experience.
• Triple S Review Services will travel to your location to conduct classes and provide mannequins and materials for class. 6 attendees per instructor.
Contact Info:
Stephanie Swilley, MSNEd, RNC-OB/C-EFM/C-ONQS
Triple S Review Services, LLC
Phone: 769-257-2900
Email: triplesreview@gmail.com